Tag Archives:
startup philipines
The Philippines' strong economy plus the growing support from tech incubators in the country are good signs for budding domestic startups, according to according to senior executives from Philippine telco Smart Communications  and its tech incubator firm Ideaspace Foundation.
Smart co-founder and chief wireless advisor Orlando B.Vea notes that the Philippines postedover 7 percent growth rates in recent quarters, and that the economic climate and large Filipino market present an opportunity "to create and foster the growth of more world-class tech companies."
Meanwhile, incubators like Ideaspace have helped new startups by organizing competitions and mentoring selected startups. Globe Telecom'sKickstart and LaunchGarage have also lent a hand in contributing to the startup space.
With that said, can we now say the Philippines' startup ecosystem is no longer in its nascency?
Before we dive in to this question, let's first ask: what are the characteristics of a startup ecosystem that's in its 'early stages?'
The World Startup Report takes six factors into consideration when analyzing the development of a startup ecosystem: entrepreneurial culture, people (the pool of skilled and talented labor force), market (the consumers that the startups can tap), capital (availability of investors and its willingness to invest) , infrastructure (access to electricity and internet and the cost it takes to access) and regulations (policies in place to protect both consumers and startups). A fully-blossomed startup ecosystem must have high rankings in all of these categories.
In the report, the US earned the highest rankings for market, capital and culture (four on a scale of one to four). People and infrastructure ranged between three to four. So this might represent the ideal of a developed startup ecosystem.
The Philippines: the two sides of the coin
Meanwhile, a nascent startup country is one that needs to develop many or all of these factors.
According to the World Startup Ranking, The Philippines still faces challenges that need to be addressed: lack of funding, skilled individuals moving out of the Philippines, poor infrastructure, and more.
But despite these challenges, the same report emphasized the potential that lies in the Philippine startup scene such as a huge local market, low competition, e-commerce growth.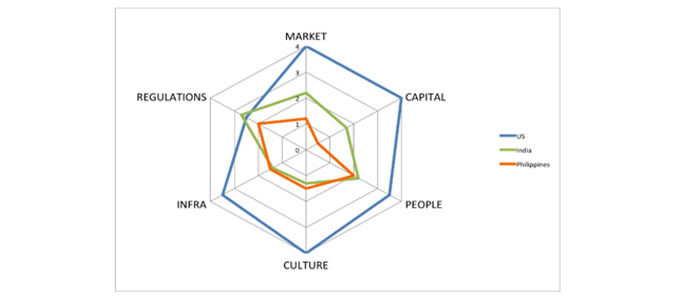 Ideaspace president Earl Martin Valencia says tech companies can significantly boost the country's economy and it's time for startups to reach their potential. "Someone can now support your startup from the idea stage to the expansion stage. […] We have to sustain our momentum." Valencia says.
The bright side: startup activities here and there
Vea says the Philippines has seen "a spike of energy" in the developer and startup communities in the past two years. He adds:
We are seeing more activity among incubators, accelerators, angels, superangels, and VCs than ever before. There's a startup conference or even a developer event or a hackathon almost every weekend.
True enough, we've seen these hackathons in Manila, and how they bring together talented engineers and developers. Even Silicon Valley's AngelHack shared its intention to open up an office in Manila.
Likewise, the recent Geeks on a Beach held in Boracay was one of the bigger – if not the biggest – startup events to come to the Philippines. According to Smart, over 300 participants attended the event, ranging from developers, technopreneurs, and investors.
So, while the Philippines' startup arena still lags behind those in its developed neighboring countries, a strong talent pool resides here. Recent years have also proved how startups are really starting to grow in the Philippines. People are already recognizing the potential of the country, and this may be good enough for us to say that the Philippines, too, can become a developed startup ecosystem.
Maybe instead of asking, "Is the startup scene in the Philippines still in its nascency," we should ask instead, "how soon will it take the startup scene in the Philippines to develop?"
The Philippines is one of the more dynamic markets in the global economy. Its general macroeconomic outlook improved significantly in recent years and the country has made promising headway towards more sustainable and equitable economic development.
Our natural pool of talents and culturally adaptable human resources position the country as the most value-for-money destination for investments in the Asian region. We place high-value on education that equipped our labor force with world-renowned technical competency and English proficiency.
Our generally liberalized policy environment and strategic logistics access point in ASEAN + 3 gives us that competitive edge.
Bright spots in the economy include BPO, tourism, mining, agriculture, bio-fuels and renewable energy, and infrastructure. The Philippines is endowed with rich and diverse natural resources that provide seemingly unlimited opportunities.
With national economies and supply chains becoming more and more intertwined, we strive to expand and strengthen international investment agreements with capital-exporting countries to safeguard investors against economic volatilities and hedge against risk.
The government is well aware of the need to focus on total investor-related solutions to nurture investments. Going from strength to strength, the country's comprehensive strategy to attract capital inflows integrates secure and predictable economic conditions with business-friendly policies.
More than just a location, investing in the Philippines is about making that strategic business decision.
The Philippines provides investors with various opportunities especially in the following sectors:
Manufacturing
Information Technology and Business Process Outsourcing
Tourism
Agribusiness
Steps in Establishing a Business in the Philippines
You may set up your business under several organizational structures known as single proprietorship, partnership, corporation, branch office, representative office, regional headquarters, or regional operating headquarters.
Submit the requirements and follow the procedures to start-ip your business.
Acquire Visa for Foreign Management and Personnel
Foreign Nationals seeking to work, do business and/ or invest in the Philippines may apply for work authorization and or the appropriate visa provided for under the Philippine Immigration Act as amended or some other special law.
Apply for Permits, Licenses, Clearances, etc.
Secure the documents necessary for your business.
The primary thrust of the Investors Aftercare Program is to understand the investor's priorities, whether it be to find a solution to address current business concerns, or to expand into more profitable business ventures.
The Investors Aftercare Services Department (IASD) implements the aftercare program which delivers the most current investment policies and programs to the investors. Instead of waiting for the investors to seek assistance, our aftercare team reaches out to discuss value propositions and resolve business-related concerns.